NO VOICE IS TOO SMALL
NOOL Counseling Center provides an individualized approach to counseling for children, adolescents, adults, parents, couples and families. Our approach to counseling is focused primarily on principles of Cognitive Behavioral Therapy, Trauma-Focused Cognitive Behavioral Therapy, and Eye Movement Desensitization & Reprocessing (EMDR). Various Play Therapy approaches are also utilized for the purpose of assessment and treatment of children. While we focus on cognitive behavioral interventions, we are person-centered in our approach to building healthy counselor-client relationships because we are committed to ensuring that you leave each session feeling heard. 
Our team is focused on serving all people because our community is underserved. We are committed to providing effective and inclusive services by offering individualized treatment for each person we encounter and accepting most insurances for payment.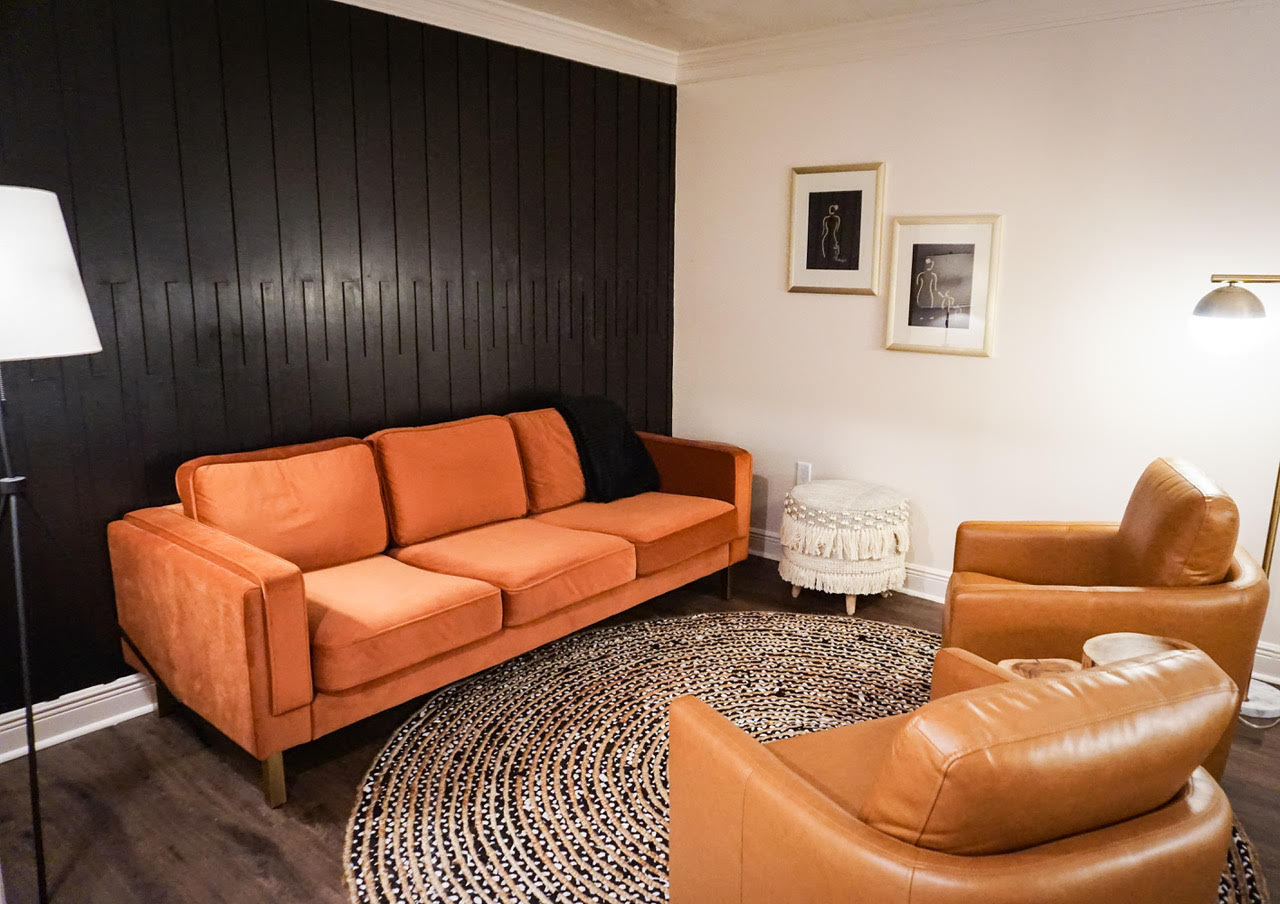 Individual Therapy
Our approach to individual therapy allows the client to drive each assessment and therapy session, while the counselor's role is to listen, guide, support and offer helpful interventions to the client. We rely on a strong empathetic relationship as the foundation for growth. 
Through Cognitive Behavioral Therapy (CBT), we focus on creating positive changes in your life by identifying and changing negative or unhealthy types of thinking. Through gaining insight about your thoughts, feelings and behaviors and how they are connected, you gain the ability to own control over yourself and ultimately grow into your own counselor. CBT interventions address the need for stress reduction and relaxation, thought reframing, and behavioral changes. CBT is an evidence based approach for treating depression, anxiety, relationship issues and more. 
Play Therapy
Play is a child's first language. Before your child develops verbal language skills, he is already learning and expressing. Through Play Therapy, your child will learn self-control, self respect, feelings expression, problem solving, communication skills and behavior modification. 
The play therapist relies on play, toys and games to help the child explore, express and safely experience the difficulties he is facing outside of the playroom. Through play, the therapist assesses and communicates with the child, discovering and treating struggles unable to be heard and recognized through normal dialogue. Play Therapy is an evidence based approach for treating all childhood mental health needs. 
Filial Therapy
Filial Therapy is a family-focused intervention in which the play therapist trains and supervises parents as they hold special child-centered play sessions with their child. We rely on Filial Therapy to treat emotional and behavioral difficulties in children, and we aim to both empower parents and improve the relationship between the parents and the child. Over the course of Filial Therapy, we offer parents a variety of methods for engaging their child and practicing CBT skills while still maintaining limits.
Family Therapy
The goal of Family Therapy is to identify and address emotional, psychological or behavioral issues in the family. Through Family Therapy, family members work to improve communication, solve family problems, understand and handle special family situations and create a better functioning home environment. We rely on an individualized, systems approach to guide you and your family through your struggles and become a healthy, connected family. We utilize Family Therapy as needed for our clients.
Couples Therapy
The goal of Couples Counseling is to improve romantic relationships and resolve interpersonal conflicts. Through Couples Counseling, partners gain clarification about their feelings, remove obstacles in their relationship, deepen intimacy and connection and increase self-awareness and personal growth. Through Couples Counseling, we listen to you and your partner tell your story about your struggles, both personally and romantically, and offer solutions and strategies to increase growth. 
Maternal Counseling
Maternal Counseling refers to the treatment of any emotional struggle, depression, heightened anxiety or increase in traumatic stress reaction due to parenthood and "the mom's mental load." "The mom's mental load" is the combination of cognitive work and emotional work. The cognitive aspect of the mental load involves the scheduling, planning and organizing required to support a well-functioning family. Through Maternal Counseling, we offer support, self-care interventions and stress-reduction strategies for mothers. 
Perinatal Counseling
Perinatal Counseling refers to the treatment of emotional struggles during pregnancy or surrounding pregnancy. These struggles could include: antenatal depression, antenatal anxiety, postpartum depression, postpartum anxiety, postpartum panic disorder, postpartum obsessive-compulsive disorder, birth trauma, stress reaction after miscarriage or fertility related stress. 70-80% of women experience, at a minimum, postpartum "baby blues." We consider Perinatal Mental Health the earliest intervention for Childhood Mental Health, and we're here to support you in building a healthy attachment and relationship with your baby. We offer support, relaxation and stress-reduction skills, traumatic stress reprocessing and desensitization, mental health labor and delivery plans and other preparation for motherhood to our perinatal clients. 
Trauma-Focused Therapy and EMDR
We are dedicated to serving individuals suffering from posttraumatic stress. We believe the goal of trauma treatment is not to "get over it" but to heal from it. Through trauma treatment, you are able to regain control over yourself and manage your triggers. We treat trauma through Trauma-Focused Cognitive Behavioral Therapy (TFCBT) and Eye Movement Desensitization and Reprocessing (EMDR).
What is TFCBT?
TFCBT is a cognitive behavioral approach to counseling that involves learning about trauma, using relaxation skills, affective expression skills and cognitive coping skills, addressing automatic negative thoughts, processing traumatic memories and enhancing safety for individuals. Through TFCBT, we provide a supportive environment where you are encouraged to talk about your traumatic experiences and learn skills to help you cope with life stressors.
What is EDMR?
EMDR is a therapeutic approach that allows individuals to cognitively heal from the symptoms and emotional distress that are the result of disturbing life experiences. Your brain's information processing system naturally moves toward mental health. If the system is blocked or imbalanced by the impact of a traumatic event, the emotional wound festers and causes emotional suffering. Once the block is removed, healing resumes. Through EMDR, we help clients activate their natural healing processes.
Ashlie West
LPC-S, RPT-S
Ashlie West is a Licensed Professional Counselor Supervisor (LPC-S), Registered Play Therapist Supervisor (RPT-S), owner of NOOL Counseling Center, PLLC and a member of NOOL's counseling staff. Ashlie is certified in Trauma-Focused Cognitive Behavioral Therapy (TFCBT) and trained in Infant Mental Health and Eye Movement Desensitization and Reprocessing Therapy (EMDR). 
Ashlie is passionate about hearing the voices of the voiceless. She focuses primarily on Play Therapy for young children (including children under 4 years old), Perinatal Counseling and Trauma-Focused counseling. 
Ashlie believes in balance. She works hard, loves hard and plays hard, and she enjoys helping her clients find that balance too. 
Pam Phipps
LPC
Pam Phipps is a Licensed Professional Counselor (LPC) and a member of NOOL's counseling staff. 
Pam has had a comprehensive mental health career serving a diverse client population in a variety of professional roles. She prides herself on her unbiased perspective and ability to empathize with absolutely anyone. She loves working with a wide range of clients, including older children, adolescents and adults. 
Pam specializes in Couples Counseling. She loves counseling couples because she is able to offer an unbiased perspective to encourage them to see one another's viewpoint, and that's what relationships are all about.
Robin Bixler
LPC
Robin is a Licensed Professional Counselor (LPC) and a member of NOOL's counseling staff. Robin is certified in Trauma-Focused Cognitive Behavioral Therapy (TFCBT) and trained in Eye Movement Desensitization and Reprocessing Therapy (EMDR). 
Robin has spent years working in child welfare as a forensic interviewer and Trauma-Focused counselor for children. Robin is passionate about working with children and teens who have experienced trauma or are plagued by anxiety and depression and those who struggle with problematic behaviors including problematic sexualized behaviors that impact their day to day lives. By learning skills to cope with adversities and increasing emotional intelligence, children and teens are better equipped to grow into healthy, productive adults. 
Robin is drawn to work with young people because children are resilient and willing to learn and practice new skills. She considers her work with this population an honor, rather than a job.
Loren Wilkerson
OFFICE ADMINISTRATOR
Loren Wilkerson is NOOL's Administrator, and she is the motor that accelerates NOOL forward. She ensures that NOOL's mission is carried out daily through scheduling and client communication, medical billing and management, financial planning and management and more. She has a heart for both business AND people. Loren's favorite part of working at NOOL is leaving each day knowing the work she did made a difference.
Moe
THERAPY DOG
Moe is a certified Emotional Support therapy dog who specializes in cuddles. She is great at creating a calm, safe atmosphere for nervous first time NOOL visitors, and she's a staff favorite to regular NOOL clients. Moe can travel paw in hand down your road to a better you in counseling at your request.
We're Ready to Listen.
Do you want more information about scheduling an appointment or just have questions about what we do? Please reach out to us and we'll be happy to help you any way we can.